As we continue to follow the news out of Israel, it's hard to find a positive headline. Despite rocket attacks and riots, hate and violence humanity and love are still prevailing in big and small ways each day. We don't want to underscore the seriousness of the situation in Israel and the Gaza Strip, but here are some positive stories to shed some light in this time of darkness.
Related: How to talk about the Israeli-Palestinian conflict with your friends
Muslim Arab saves Jewish Israeli from lynching attempt
Meet Jamal Amara, a Muslim Arab from the Galilee. Amara saved Reuven Nehorai, a Jewish Israeli, after being caught in a lynching attempt by a handful of extremist young people in the village.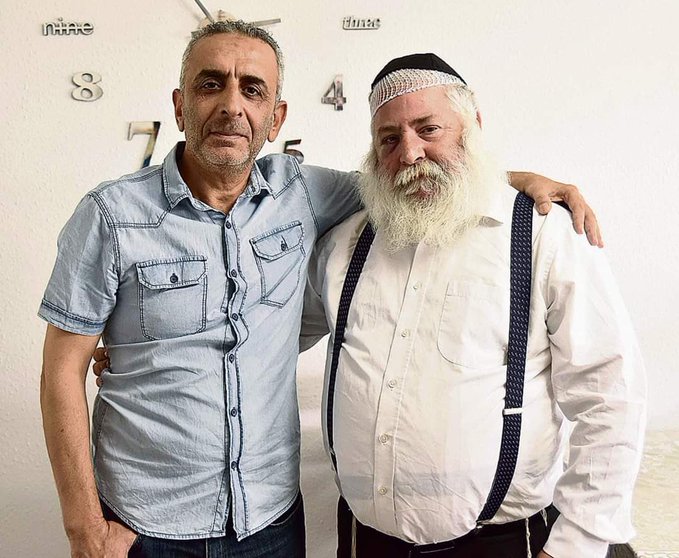 Israeli Jews and Arabs hold unity rallies
Coexistence rallies were held by Jewish and Arab Israelis and signs of solidarity took place across Israel on Thursday. Many of the signs read: "Jews and Arabs refuse to be enemies."
Flower parade for peace in Jerusalem
On Jerusalem Day, coexistence organization Tag Meir hosted its annual Jerusalem flower parade, distributing flowers to Jerusalem residents and merchants of the Old City. This is typically done a few hours before the annual "flag march" in the Muslim Quarter where Arab merchants and residents sometimes encounter racist chants and are forced to close up shops.
United Hatzalah volunteer doctors put themselves in harm's way to protect their neighbors
United Hatzalah, a volunteer-based emergency medical services organization, has been working around the clock assisting Jewish and Arab Israelis with emergency medial care; and, in many cases, going above and beyond the requirements of their work.
In the following video, a Muslim doctor escorts Jewish Israelis by ambulance.
Amidst the violence this past week, a group of Muslims attempted to lynch a Jewish man who entered the Muslim city of Tamra in the Galilee on Wednesday night. A Jewish man was being beaten in what appeared to be a lynching until Muslim doctor, Dr. Muhammad Awad, who volunteers with United Hatzalah, was dispatched to treat the injured person at the scene of violence. When Awad arrived, he physically intervened putting his own body in between the Jewish man and the Muslims who were hitting him. Full story here.
Hospital turns coronavirus ward into a bomb-shelter neonatal unit
The Sheba Medical Center, a hospital located in the greater Tel Aviv area, turned an underground parking lot that had previously served as a coronavirus ward into a bomb-shelter neonatal unit on Friday. Several dozen babies were moved there, according to the Jerusalem Post. The hospital is one of the largest in the country has gone through several rocket alerts in the last few days.
Jewish and Arab medical staff share messages of coexistence
Hospitals across Israel have sent out messages of coexistence, asking Israeli society to learn from what happens in hospitals where politics are put aside and humanity comes at the center.
The Galilee Medical Faculty in Safed of Bar-Ilan University created a video featuring its doctors and nurses from different sectors standing together side by side with the soundtrack of the iconic Israeli song "I have no other country."
Tweet translates to: Jewish and Arab doctors and nurses at the Israeli Rambam Hospital send one message in both Arabic and Hebrew: "Peace"
Originally Published May 16 2021 01:24PM EDT